Key Colony Beach Recreation
The City of Key Colony Beach might be small in size, but there is a full array of recreational things to do for all ages of the family.
The City has some balls and other equipment which is available to anyone enjoying our recreational activities.  It is all available to borrow, on the honor system.
So please take good care, and return what you borrow directly after using it.  The equipment shed is located in between the two public works buildings at 460 8th St.
8th Street, Key Colony Beach
Daryl Rice, Manager
(305) 289-9859
Open to the Public from 7:30 a.m. to Dusk
Golf Course (9 hole par) fees:
$15 per 9 holes ($8 for each additional 9 holes)
$5 Club Rental
$5 Pull Carts
Annual Pass for Green Fees:
$485 First Family Member
$355 Each Additional Adult Family Member
$200 Each Child under the age of 18
Children's Playgrounds
Both of our playgrounds offer an array of equipment including but not limited to the following: sliding boards, swings, merry-go-round, tetherball, dome gym climber, swinging bridge, see-saws and spring hobby horses. Both areas offer shaded areas and tiki huts for picnicing, etc.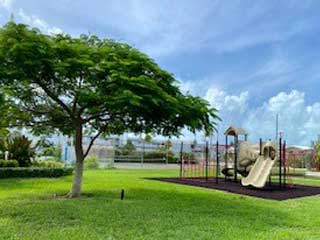 Parks
Visit Sunset Park on the corner of West Ocean & 12th Street, East Side Park on 8th Street and our New Waterfront Park by City Hall & the Post Office.  These are open areas for passive activities. If you would like to hold a function or gathering at either, please inquire with City Hall.
Pickleball
Contact: Ted Fischer at 302-841-9812
Alternate Contact: Mike Alexander at 305-393-4538
Tennis Leagues
Contact: Sally Flagg 305-743-2073
Co-ed Round Robin League
Bocce Ball
Contact: Bill Fox at 609-846-4551
Walking and Jogging Courses
Throughout the city are designated pedestrian areas. Three master courses are .4, .5 and .8 with a course board located in front of City Hall marking the courses along the Causeway, East Ocean and West Ocean Drives. Click here to view the courses on the map (color coded).
The city walking paths along Sadowski Causeway, East Ocean and West Ocean Drives are also enjoyed by walkers, joggers, and bicyclers alike. The following rules of etiquette are offered as a reminder. When a
biker overtakes a walker on the path used by both, it is imperative that he warn the walker that he is passing. He can ring a bell, use a horn, or say, "biker passing on left (or right)". The walker, thus alerted, can move safely out of the biker's path and possibly prevent a serious accident. We have added trash recepticals along the Causeway, please keep our City clean and put trash in its place!

Book Club
Contact: Marie Degraw at 305-743-7214 for book list and more details.
Meets the second Thursday of the month at 3pm at City Hall Conf. Room.
Pilates
Contact: Marianne Biffel @ 610-633-3919
Crafty Ladies
Contact: Marie Flood for details at 305-394-3923.
Meets Mondays from 10:30 am – 4:00 pm in the City's Marble Hall.
Shuffleboard
Open to the public and equipment is available.